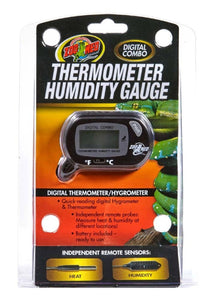 Quick-reading digital Hygrometer & Thermometer.
Independent remote probes: Measure heat & humidity at different locations!
Battery included - Ready to use.
Two 39in (one meter) long independent probes and sensors allow for monitoring of heat and humidity at different locations.
Use in terrariums, incubators or other pet animal applications.
Waterproof temperature probe can be used in air or submerged in water. (Humidity probe not waterproof, do not submerge in water.)
One LR44 1.5v batter and mounting suction cups included.